Shalimar, FL
– The Okaloosa County Tax Collector Office's Business Collections Department reminds citizens to renew their Business Tax Receipts (BTR).  Business Tax Receipts are issued by the Tax Collector to all businesses operating in Okaloosa County. Anyone providing merchandise or services to the public, even if only a one-person company or home-based occupation, must obtain a county business tax receipt to operate. Business Tax Receipts become eligible for renewal each July and are due by September 30
th
.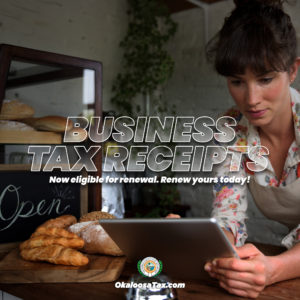 Business Tax Receipt Renewal notices were mailed on July 1st and are now eligible for renewal.  They can be renewed quickly and securely at
OkaloosaTax.com
. "Our website provides a secure portal to renew and print your BTR. The website is available 24/7 making the process a breeze," states Joshua Allen, Director of the Business Collections Department.
In addition to the convenient online renewal option, businesses may also renew by one of the following methods: calling
#TAX (#829)
from their mobile device, by mail, or by our drop boxes located outside of each office. In-office renewals are
not
being offered as an option.
For questions concerning opening a business in Okaloosa County, or about a current Business Tax Receipt, please visit us at
OkaloosaTax.com
or email our Business Collections Department at
BTRWeb@OkaloosaTax.com
.