Your Okaloosa County Tax Collector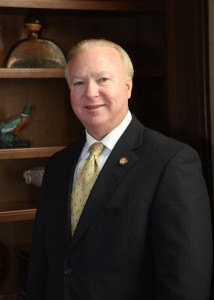 Ben Anderson was appointed
Okaloosa County Tax Collector in
2011 and has since been reelected in
2012, 2016, and 2020.
During Ben's tenure as Tax Collector,
he has implemented vast changes in
technology and innovation to better
serve and benefit the taxpayers of
Okaloosa County. Under his leadership,
his office collects and disburses more
than $350 million and processes more
than 650,000 transactions yearly.
Ben and his office have been recognized
annually by the Florida Tax Collector's
Association with prestigious awards in
Financial Operations for work they have done since 2012 (Ben's first full year),
receiving first the Excellence Award, followed by the Legacy Award for consecutive years of fiscal excellence.
Nominees from throughout the State are judged by a five-member panel in the
areas of Audit Clear of any Findings, Budgeting Expertise, Competency, Innovation and Automation, and Customer Focus.
He also established the Virtual Resource Network, providing much-needed
continuing education to tax collector employees and offices around
the State. Through his initiatives, more than 1,600 personnel from 44 counties have
completed over 24,000 online courses. After 40 years in private business, Ben
approaches the management and operations of the Tax Collector's Office
as a business – he asks, "can we do it better and more efficiently, and can we
save money?". After all, it is the government's duty and responsibility to
serve its citizens with the highest level of integrity, efficiency, and professionalism.