The Okaloosa County Tax Collectors office accepts applications for Concealed Weapon Licenses (CWL), at the Crestview location, (see image below as you will not be able to access this office from the main lobby) and the Niceville location. An appointment is required to submit your application and fingerprinting. To make an appointment you can call (850)651-7300 or Click here to book your appointment. In the Crestview office, you will enter at the back of the building for your CWL appointment; click the image below for directions once at the office.
For driving directions to the Crestview location you can Click here for a map.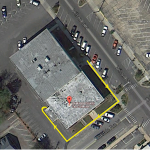 For driving direction to the Niceville location, you can Click here for a map.
Useful Online Links
Fees are established by Florida Statute.  Acceptable forms of payment are cash, check, money order and debit/credit card.  If paying by debit/credit card, a bank card user fee of 2.5% will be added to your total upon checkout.  Please see our fee schedule below.  New rates are effective 1 July 2017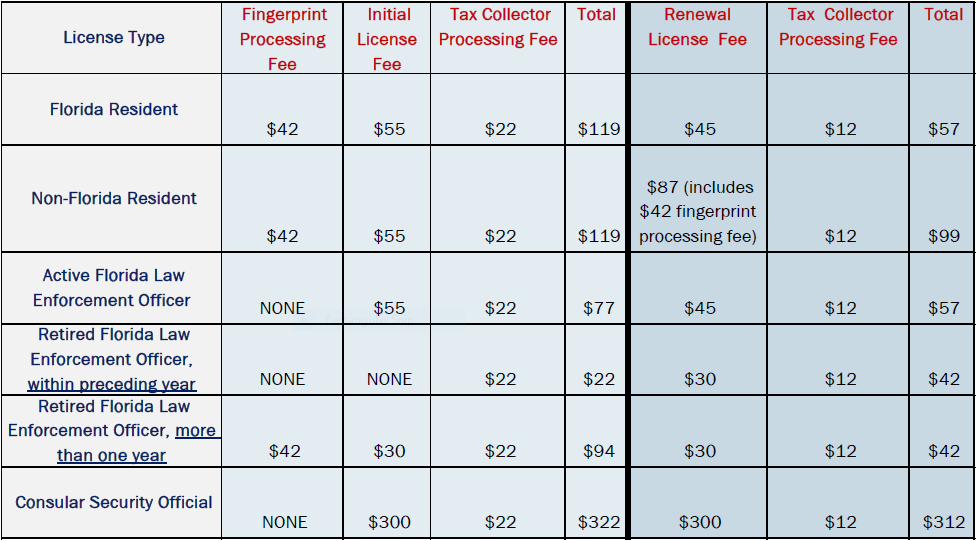 You must be 21 years of age or older.
You must be able to demonstrate competency with a firearm. See below for acceptable forms of training
Unless you are serving overseas in the United States Armed Forces, you must currently reside in the United States (US) AND be a US citizen or deemed a lawful permanent resident alien by Department of Homeland Security, US Citizenship and Immigration Service (USCIS). If you are serving overseas in the US Armed Forces, submit a copy of your deployment documentation with your application. If you are not a US citizen, submit documentation issued by the USCIS proving you are a permanent legal resident alien with proof you have resided in the state of residence (as shown on your application) for at least 90 consecutive days prior to the date the application is submitted.
Acceptable Training Documentation
Florida law requires you to submit proof of competency with a firearm in order to qualify for a concealed weapon license. A copy of a CERTIFICATE OF COMPLETION or similar document from any of the following courses or classes is acceptable:
any hunter education or hunter safety course approved by the Florida Fish and Wildlife Conservation Commission or a similar agency in another state;
any National Rifle Association firearms safety or training course;
any firearm safety or training course or class available to the general public offered by a law enforcement agency, junior college, college, or private or public institution or organization or firearms training school, utilizing instructors certified by the National Rifle Association, the Criminal Justice Standards and Training Commission, or the Department of Agriculture and Consumer Services;
any law enforcement firearms safety or training course or class offered for security guards, investigators, special deputies, or any division or subdivision of law enforcement or security enforcement;
any firearms training or safety course or class conducted by a state-certified instructor or by an instructor certified by the National Rifle Association.
The copy of the training certificate/document must be clear and legible. The certificate/document must include your name, your instructor's name, your instructor's qualifications/credentials (National Rifle Association instructor, law enforcement firearms instructor, Class "K" Firearm Instructor licensed by the State of Florida, etc.), and your instructor's license/certification number.
Other acceptable forms of training documentation include the following:
documentary evidence of experience with a firearm obtained through participation in organized shooting competition;
active-duty military personnel may submit copies of any of the following documents that confirm your experience with a firearm gained during your service: military orders including call to active-duty letter; a statement of military service signed by, or at the direction of, the adjutant, personnel officer, or commander of your unit or higher headquarters which identifies you and provides your date of entry on your current active-duty period;
former military personnel can submit a DD Form 214 reflecting honorable discharge from military service.
To find a weapon's safety course trainer near you, Click Here
What should you bring with you if you're a first time applicant?
A picture ID. A driver license or state-issued identification card is perfectly acceptable;
A copy of a training document or other certificate that confirms you are proficient with a firearm; if you are a veteran, a DD214 noting an honorable discharge will suffice for firearms training documentation; active duty military can simply bring in their military ID card or a copy of their current orders;
A discount is offered to Florida law enforcement officers with a letter on agency letterhead stating you are currently employed in a law enforcement position.)
If you have ever been arrested, you should bring with you certified copies of the court documentation reflecting the final disposition of the charge(s) filed against you.
If you were born outside the United States, or if you are a permanent legal resident alien, you will need to bring official documentation with you that confirms your citizenship status. Please review eligibility information concerning citizenship requirements.
(Your photo and fingerprints will be taken during the processing; you do not need to get those in advance.)
What you should bring with you if you're renewing?
Current license or renewal letter from the Florida Department of Agriculture;
A picture ID. A driver license or state-issued identification card is perfectly acceptable.
What can you expect once you arrive?
Once you arrive at our office, you will be directed to a computer station where you will complete an electronic application form. You do not need to complete an application form in advance. Once you have completed the application, a team member will review your application, take your photograph, electronically scan your fingerprints, and take your payment.
How long will it take for the division to process my concealed weapon license application?
You should be aware of two issues that may affect your application processing time.
If your electronic fingerprint scan is insufficiently legible to complete a background check, the division will notify you by letter that you will need to submit another set of fingerprints. You need to schedule another appointment with our office for a second fingerprint scan. Make sure to bring the letter sent to you by the division.
After the Florida Department of Agriculture and Consumer Services employees have reviewed your application, you may be notified by letter if they need additional information from you. For example, the division may need clarification from you about your background check results. If you receive such a letter, you will need to respond by mail directly to the Florida Department of Agriculture and Consumer Services.
You can check on the status of your application online.