The Okaloosa County Tax Collector's office accepts applications for Concealed Weapon Licenses (CWL), at the Crestview location, (see image below as you will not be able to access this office from the main lobby) and the Niceville location. An appointment is required for all Concealed Weapon transactions to include original applications, renewals, and fingerprinting. To make an appointment you can call (850)651-7300 or Click here to book your appointment. In the Crestview office, you will enter at the back of the building for your CWL appointment; click the image below for directions once at the office.
If your license has been lost, stolen or destroyed, you can obtain a replacement license by contacting the Florida Department of Agriculture and Consumer Services. Requests for replacement licenses cannot be submitted online or at a local office.
Mail your request to the address below:
Division of Licensing
P.O. Box 6387
Tallahassee, FL 32314-6387
Please include the following items:
A written statement explaining that your license has been lost, stolen or destroyed (this statement must be notarized), and
The $15 replacement fee (paid by check or money order made payable to the Division of Licensing).
For driving directions to the Crestview location you can Click here for a map.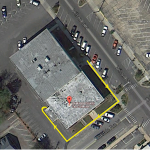 For driving direction to the Niceville location, you can Click here for a map.
Useful Online Links