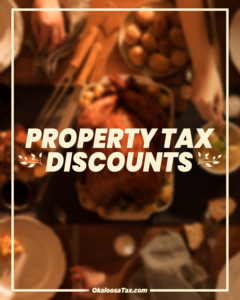 "While there are many ways to remit payment, we're urging our customers to take advantage of our secure online payment options at OkaloosaTax.com. With the transition to appointment-only service for DMV related transactions our ability to provide in-person service for property tax payments will be limited," adds Anderson. "Online payments made using your bank account (eCheck) are FREE, no additional fees are charged, plus you still receive the full 4% discount. More importantly, online payments are convenient, simple, and secure."
Property owners wishing to mail payments must have them postmarked on or before November 30th to receive the 4% discount. Additionally, property owners can drop payments in the drop boxes located outside of each office location.
All Okaloosa County Tax Collector Offices will be closing on Wednesday, November 25th at 2 PM, and will remain closed for Thanksgiving Day and the day after Thanksgiving. Although offices will be closed for the Holidays, customers can still process a majority of transactions securely at OkaloosaTax.com.
For questions concerning Tax Collector services, please visit OkaloosaTax.com or call from your mobile device by dialing #TAX (#829).