Monday, August 30th through Friday, September 10th.
With the recent increase in COVID cases, the office has begun to experience staffing shortages, leading to longer wait times and a poor customer experience. To alleviate these, the office is consolidating team members into their Shalimar, Crestview, and Destin branches for two weeks, beginning Monday, August 30th.
While the lobby is closed, site repairs (parking lot resurfacing) and the implementation of new DMV software (ORION Phase III) will also be taking place. Customers who had appointments scheduled in Niceville during these two weeks will be contacted by a tax collector staff to move those appointments to one of the other offices.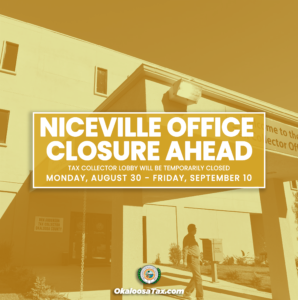 The tax collector wants to remind all customers that many of our services can be taken care of online at OkaloosaTax.com. Payment made online with your bank account (e-check) is FREE! A few examples of online services are:
• Registration (Tag) Renewals
• Business Tax Receipt Applications and Renewals
• Property Tax Payments
• Vessel Registration Renewals
• Application for Hunting and Fishing License
Customers who must visit an office, are encouraged to have all their documentation ready. For those not needing immediate service, an appointment can be scheduled for a future date. Appointments can be booked online at: https://okaloosataxappt.cxmflow.com/.
For tax collector-related inquiries, please visit OkaloosaTax.com or dial
#TAX
(#829) from your mobile device.